The Golden Guinea Tree (Dillenia alata) which has been added to our collection of botanical prints is found in tropical rainforests of Australia and New Guinea. The bright yellow flowers are about 8 cm in diameter and the red flower-like fruit opens to reveal black seeds enclosed in white fleshy arils.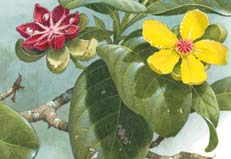 An Eye for Nature – the life and art of William T Cooper, written by Penny Olsen with a foreword by David Attenborough is due to be published in March 2014.  Illustrated with nearly 200 paintings and drawings, many never previously published.
William Cooper (Bill) has painted professionally since 1964. His career began as a landscape and seascape artist and then he turned his talents to his first love, birds. Bill has illustrated numerous books and his work is purchased by institutions and collectors from around the world.

A selection of his work is available as limited edition giclée prints on canvas. New pieces are periodically.

Books & Limited edition giclee prints